Gnoce Sparkling Sunflower Charm
Special Price
A$63.95
A$109.00
Save A$45.05
Pay in 4 interest-free payments of with
.
or 4 payments of with
or
Wrist Length
cm
14
15
16
17
18
19
20
Recommended
Bracelet Length
Inches
6.3
6.7
7.1
7.5
7.9
8.3
8.7
cm
16
17
18
19
20
21
22
We have already listed 2 simple steps for you to choose your right size bracelets.
※ The 16cm bracelet is the perfect size for children.
Step 1: Use the tape measure or a strip of paper to measure your wrist.
Just wrap the soft tape measure around the broadest part of your wrist and take note of the length. If you are using a plain strip of paper, mark your size with a pen or pencil then use a ruler to measure the length (The starting end of the paper must be at the base of the ruler and marked 0). That would be your wrist size.
Step 2: Add one inch, or 2.5 centimeters, onto this measurement to get the final length of your bracelets.
Please make sure there's enough space to tuck in 2 fingers as this is the space you need to add the charms. If you want to add less than seven charms, add 2 centimeters are ok. If you plan to wear eight or more charms, please add 3 centimeters. If you purchase a bangle, just choose the next size from your actual wrist measurement.
Notes:
1. A bracelet is perfectly sized when you measure your wrist tightly and add 2 or 3 cm.
2. If you are between sizes, ask yourself how you like to wear your bracelet. If you wear it tightly choose the smaller size and if you like to wear it loosely take the next size up.
3. Please be aware that when you receive a new bracelet it will feel stiff, which can make it uncomfortably tight. The bracelet will quickly soften and become more flexible as you wear it.
4. Bear in mind that the more charms you add to your bracelets, the tighter it will become.
5. The most popular bracelet size is 7.5 in / 19 cm.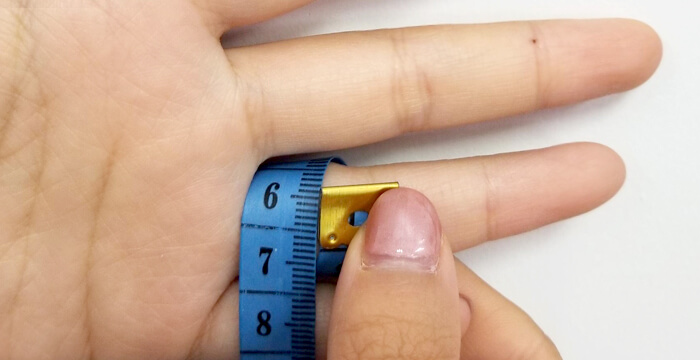 This is a chart that will be extremely helpful for you to determine the ring size that you need. You can either make use of a tape measure or a small piece of string to measure the area that will be occupied by the ring. When it becomes a complete circle, make a mark on such string. This will be helpful for you to compare with the chart that is mentioned below.
Inside Diameter
Inside Circumference
SIZE
(in)
(mm)
(in)
(mm)
United States
United Kingdom
Italy
France
Germany
Canada
Australia
Spain
Mexico
Ireland
Netherlands
New Zealand
Switzerland
South Africa
0.618
15.7
1.94
49.3
5
J½
9.25
49
15¾
0.65
16.51
2.04
51.9
6
L½
11.75
52¾
16½
0.682
17.32
2.14
54.4
7
N½
14.5
55¼
17¼
0.714
18.14
2.24
57
8
P½
17
57¾
18
0.746
18.95
2.34
59.5
9
R½
19.5
59
19
Notes:
1. Measure your finger in warm temperatures at the end of the day.
2. If your knuckle is a lot larger than the base of your finger,measure both the base of your finger and your knuckle and select a size between the two.
3. When considering a wide band, move up a size from your measurement, for comfort's sake.
4. The most popular ring size are 7(U.S) & 8(U.S).
Buy this product and get 63 points.
Earning or using points
firstly you must LOGIN to your Gnoce account.
For every 100 points you earn, you can redeem A$1.00 towards your shopping cart.
Frequently Bought Together